To discuss CERCARBONO, we need to go back to the year 2016 when in Colombia, Law 1819 of 2016 emerged, which introduced the Carbon Tax, in response to the goals the country had to achieve in greenhouse gas (GHG) mitigation. From that precise moment, all proposals were aimed at helping the country achieve its objectives. At the end of 2016, CERCARBONO was born, a Colombian standard that came to address the need for a national certifying entity that would provide solutions to the climate problem. Then, with the entry into force of Decree 926 in 2017, CERCARBONO expanded its scope of action, allowing it to extend its work to the carbon market.
CERCARBONO has a voluntary carbon certification program that allows Climate Change Mitigation Programs or Projects (PMCC) to be registered and certified, and subsequently, the carbon certificates issued by these projects to be recorded.
CERCARBONO's alliances
To fully comply with this process for each project, CERCARBONO formed an alliance in 2018 with EcoRegistry, a project registration platform that utilizes blockchain technology. This technology enables a more robust and precise tracking of each initiative's stages, providing security and transparency.
CERCARBONO has gained both national and international recognition. It is a member of IETA and ASOCARBONO. In 2022, it was awarded the 2nd place as the 'Best GHG Crediting Programme' by The Environmental Finance Sustainable Company.

How does CERCARBONO work?
It should be initially noted that CERCARBONO works with the following sectors:
Energy
Industry
Construction
Transportation
Mining and mineral production
Metal production
Fugitive emissions
Waste management
Using the following methodologies developed under this standard (source: CERCARBONO):
Land use: "Modular Methodology for Climate Change Mitigation Activities on Forest Lands and Wetlands."
Land use: "REDD+ Methodology for the Implementation of REDD+ Projects Consistent with National Reference Levels."
Land use: "Methodology to Implement GHG Removal Projects Through Reforestation, Forest Restoration, and the Establishment of Woody Crops."
Energy: "Methodology for the Execution of GHG Emission Reduction Projects through the Use of Renewable Energy."
Waste management: "Methodology for the Implementation of Projects for the Capture, Destruction, or Use of Biogas Produced in Landfills."
Transport: "Methodology for GHG Emission Reduction Projects through Fuel Efficiency Improvement in Land Transportation."
In addition to other methodologies used by the CDM (Clean Development Mechanism), aligned with CERCARBONO principles. (For information on the methodologies, you can visit https://www.cercarbono.com/en/methodologies/).
The certification process
Therefore, if the project or initiative aligns with any of the current methodologies, the steps toward certification would involve project registration and submission for public consultation. During the validation process, the project design is reviewed. Finally, the verification process is carried out to confirm the actual mitigation achieved by the project. Both validation and verification are processes conducted by independent entities approved by CERCARBONO.
Those are:
AENOR
Carbon Check
Deutsche Certification Body
ESPL
EPIC Sustainability
ICONTEC
KBS
Ruby Canyon Environmental
4K
Tuv Nord
Verifit
ANCE
VERSA
Another important aspect to highlight about CERCARBONO is that, like other standards, it allows for project migration. This means that if a project was developed under another standard (for example, the CDM), it can transition to CERCARBONO as long as the project meets the necessary requirements.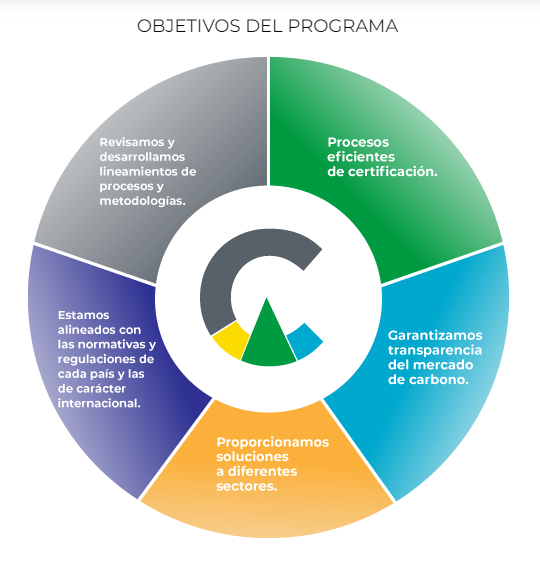 CERCARBONO in numbers
Currently, CERCARBONO has 151 registered projects, distributed among Bolivia, Brazil, Chile, Colombia, Ghana, Nepal, Panama, and Turkey. Among these projects, 16 have migrated from other standards.
Regarding the distribution by sectors:
Combined: 25 projects
Land use (AFOLU): 80 projects
Energy industries: 33 projects
Waste handling and disposal: 25 projects
Fugitive emissions: 3 projects
Manufacturing industry: 2 projects

And in terms of carbon credits, here are the details:

Did you know?
To further solidify its presence in the international market, as of February 21 of this year, Xpansiv CBL has been marketing carbon offsets from projects under the CERCARBONO standard. This integration expands the reach of CERCARBONO, allowing certifications issued through rigorous processes to reach more users, in addition to having the Xpansiv CBL seal, the largest voluntary carbon credit exchange in the world. This provides an additional level of compliance for projects and security in transactions.

On top of that, CERCARBONO is the only standard with an SDG report audited by an external entity. The Tool to Report Contributions Generated by Climate Change Mitigation Initiatives to the Sustainable Development Goals seeks to offer holders or developers of Climate Change Mitigation Projects a practical way to report the way in which its activities contribute to different areas of social, environmental, and economic development.
Likewise, it offers buyers of carbon credits valuable information when it comes to differentiating between credits generated in the same sector with the additional guarantee that the CCMP contributes to the fulfilment of the goals established in the SDGs.
ALLCOT with CERCARBONO
ALLCOT, with the support of the voluntary carbon certification standard CERCARBONO, has formulated a tool through which project developers and related groups will be able to report on the governance, financial and sustainable performance of offset projects and climate change mitigation programs in a standardized way.

This report will be a best practice that guarantees project stakeholders, with emphasis on communities and investors, the proper management of financial flows, financial and non-financial risks, benefit sharing, project risk management and the quantitative impact of the Sustainable Development Goals (SDGs) established in the project planning and monitoring plan.
Learn more here.
At ALLCOT Trading we are active in the Colombian Market and always looking to promote positive change. If you want to achieve this in a fair, transparent and win-win scenario, contact us and together we will make it happen.
An article by Laura Pirela